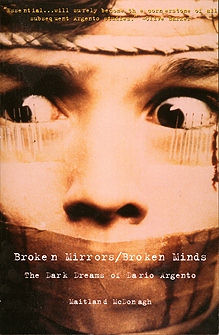 Maitland McDonagh:
Broken Mirrors / Broken Minds – The Dark Dreams of Dario Argento
Inhalt:
"Essential ... will surely become the cornerstone of all subsequent Argento studies."
Clive Barker
"Long overdue, it will remain the definitive text on Argento's films and excesses for quite some time."
Variety
"A reason to celebrate for serious horror fans."
Psychotronic
"A remarkable and exciting work."
Paper
"McDonagh is a damn fine writer ... one of the best books about horror movies I've ever read."
Samhain
"An enlightening book.... We strongly recommend it."
Video Watchdog
"Simply stated: If you're an Argento fan, buy this book."
Fangoria
"This enticingly titled book (taken from a line from SUSPIRIA) is an absolute must for any Argentophile. One comes away from it with a new sense of and respect for Dario Argento as an auteur who is both a dedicated craftsman and an inspiration for other filmmakers and filmgoers alike. This book is heartily recommended. Brava Maitland!"
Scarlet Street: The Magazine of Mystery and Horror
Autorin:
Born and raised in New York City, Maitland McDonagh received her undergraduate education at Hunter College, City University of New York, and earned her MFA in Film History/Theory/Criticism from Columbia University. McDonagh published her first critical essay, The Ambiguities of Seeing and Knowing in Michael Powell's PEEPING TOM, while still an undergraduate, and co-founded and edited Columbia Film Review, a journal of film writing, as a graduate student. She has written extensively on the cinema for magazines in the United States and Europe, including The Dark Side, Entertainment Weekly, L'Ecran Fantastique, Film/Psychology Review, Mad Movies, Premiere, Interview, Film Quarterly, Fangoria, Persistence of Vision, Gorezone and Film Comment. Broken Mirrors / Broken Minds, which is adapted from McDonaghs master's thesis, is her first book.
Citadel Press – ISBN: 3-8056-1514-7
---