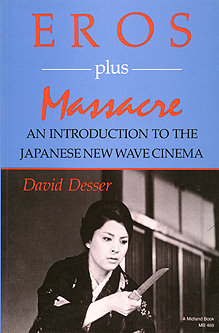 David Desser:
Eros plus Massacre – An Introduction to the Japanese New Wave Cinema
Inhalt:
The decade of the 1960s encompassed a "New Wave" of films, films whose makers were rebels, challenging cinematic traditions and the culture at large. The films of the New Wave in Japan have, until now, been largely overlooked. Eros plus Massacre (taking its title from a 1969 Yoshida Yoshishige film) is the first major study devoted to the examination and explanation of Japanese New Wave film.
Departing from the study of New Wave film in terms of its directors, Desser organizes his volume around the defining motifs of the New Wave. Chapters examine in depth themes such as youth, identity, sexuality, and women, as they are revealed in the Japanese films of the 60s. Desser's research in major Japanese film archives, his interviews with major figures of the movement, and his keen insight into Japanese culture combine to offer a solid and balanced analysis of films by Oshima, Shinoda, Imamura, Yoshida, Suzuki, and others.
"In terms of methodology and scope, Professor Desser's study is clearly superior. His critical approach is solid and flexible ... [Eros plus Massacre] teems with fascinating ideas ... it is well-researched and refreshingly thoughtprovoking."
Keiko McDonald
University of Pittsburgh
Autor:
DAVID DESSER is Associate Professor of Cinema Studies at the University of Illinois at Urbana-Champaign. He is author of The Samurai Films of Akira Kurosawa as well as numerous articles on Japanese cinema.
Indiana University Press – ISBN: 3-253-20469-0
---