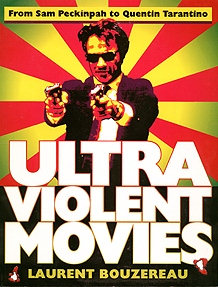 Laurent Bouzereau:
Ultraviolent Movies – From Sam Peckinpah to Quentin Tarantino
Inhalt:
1 They Wrote the Book...
2 Killer Couples
3 New Breed, New Blood
4 The Mafia and Gangs
5 Revenge
6 To Protect and to Serve
7 Psychos
8 Flesh and Blood
Autor:
Laurent Bouzereau is the author of The De Palma Cut, The Alfred Hitchcock Quote Book, and The Cutting Room Floor. He has worked in many areas of the film industry, including feature development and marketing. Most recently he wrote, directed, and produced documentaries on the making of Steven Spielberg's JAWS and 1941, and Brian De Palma's SCARFACE. He lives in Hollywood.
Citadel Press – ISBN: 3-8065-1787-5
---